Paige Knight - 25 / Jul / 2023
Cutlery 101: The Three Essential Kitchen Knives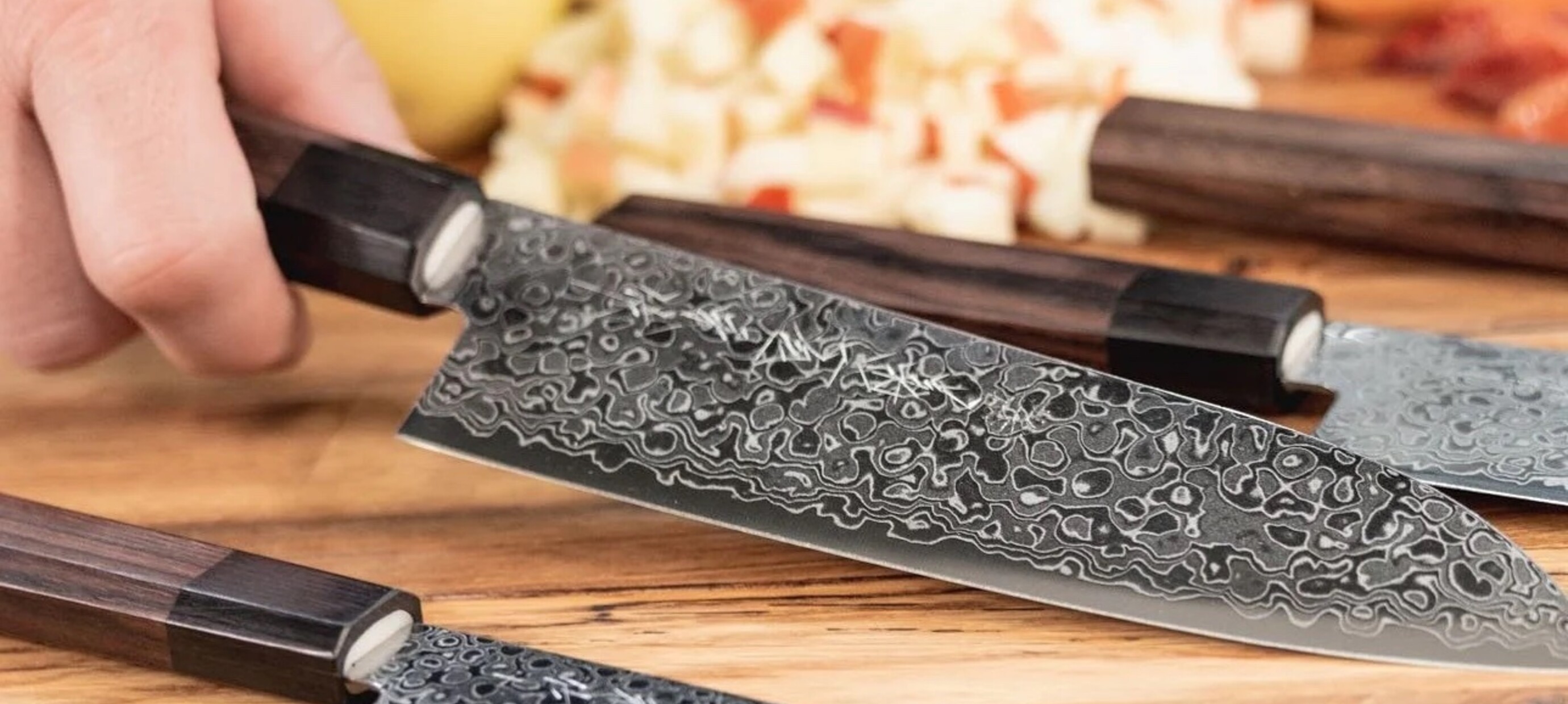 What do a college student who is learning to feed themselves, a home chef who hosts frequent dinner parties, and a seasoned professional chef all have in common? They all need kitchen knives. Knife aficionados own between 11-20 knives on average, according to a 2020 Red Label Abrasives report, but what if I told you that you only need three knives to become a whiz in the kitchen? 
Let's talk about the "Big Three" essential knives that every cook needs, factors to consider when deciding on the best kitchen knives, and which knives the expert team at Blackstones of Beacon Hill suggests.
The Big Three Best Kitchen Knives
Most people don't know what knives they need, so they just buy a knife set and call it a day. While this can take the guesswork out of picking kitchen knives, knife sets often come with extra knives that are not necessary, make cooking more complicated than it needs to be, and cost more than they're worth. 
If you shouldn't buy a knife set, what should you buy? I sat down with Jim Hill, knife specialist and co-owner of Blackstones of Beacon Hill, to learn the definitive answer to this question. 
"The simple answer is that everybody needs a chef, paring, and serrated bread knife because each of them does something the other can't," Hill said. "You cannot peel or do small work with a bread knife or chef knife, you can't cut into crusty bread unless you have a bread knife, and you can't generally cut up bigger things unless you have a big knife, a chef's knife."
That's the simple answer, but let's dive into how to choose each type of kitchen knife and put them to work for you.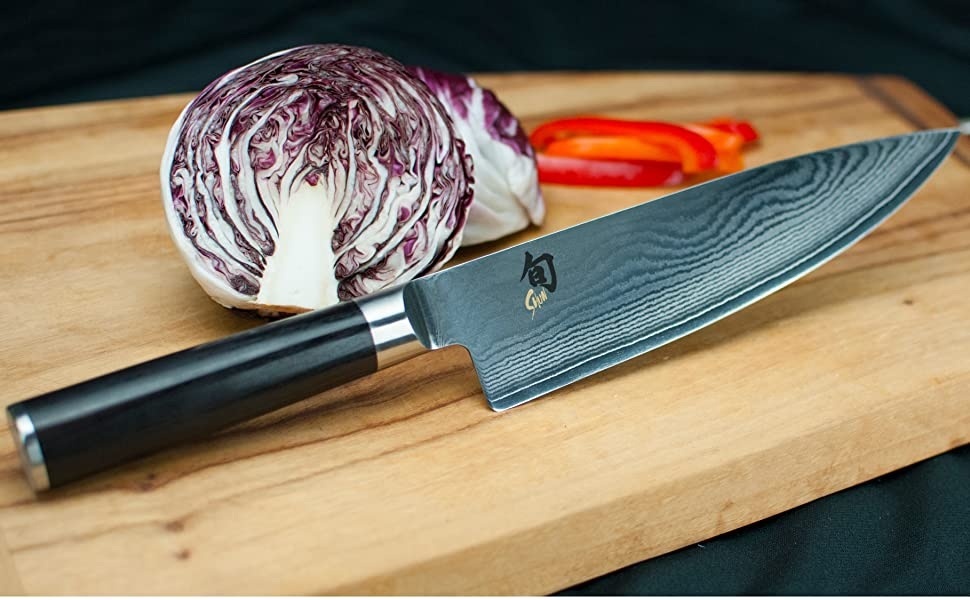 The chef's knife is widely considered the workhorse of the kitchen.
1. Chef's Knives
The chef's knife, which has a broad blade that tapers to a pointed tip, is probably the most versatile of the three kitchen knives we'll talk about today. 
The pointed tip comes in handy when trying to get into small spaces, the curved blade allows you to rock the knife back and forth when mincing, and the broad heel provides enough power to chop through vegetables and meat. These features make the chef knife useful for everything from mincing garlic and slicing veggies to cutting through large pieces of meat and disjointing poultry. 
When choosing the best chef's knife, there are a few factors to consider.
A chef's knife can be anywhere from 6" to 12" long, with 8" being the most common length. This length balances the control of shorter knives with the stability and extended cut length of longer knives.
Western vs. Japanese Knives
Japanese knives have blades that are light and thin, with a straighter edge that allows for less rocking and encourages shorter, downward cuts. Due to the thinness of their blade, they are often sharper than Western blades. These blades are ideal for tasks that require precision, like thinly slicing vegetables.
German and French chef's knives tend to have more curvature to allow for a greater rocking motion when cutting. Western blades are heavier, making them great for heavy-duty tasks like chopping meat, dicing dense vegetables, and cutting through joints.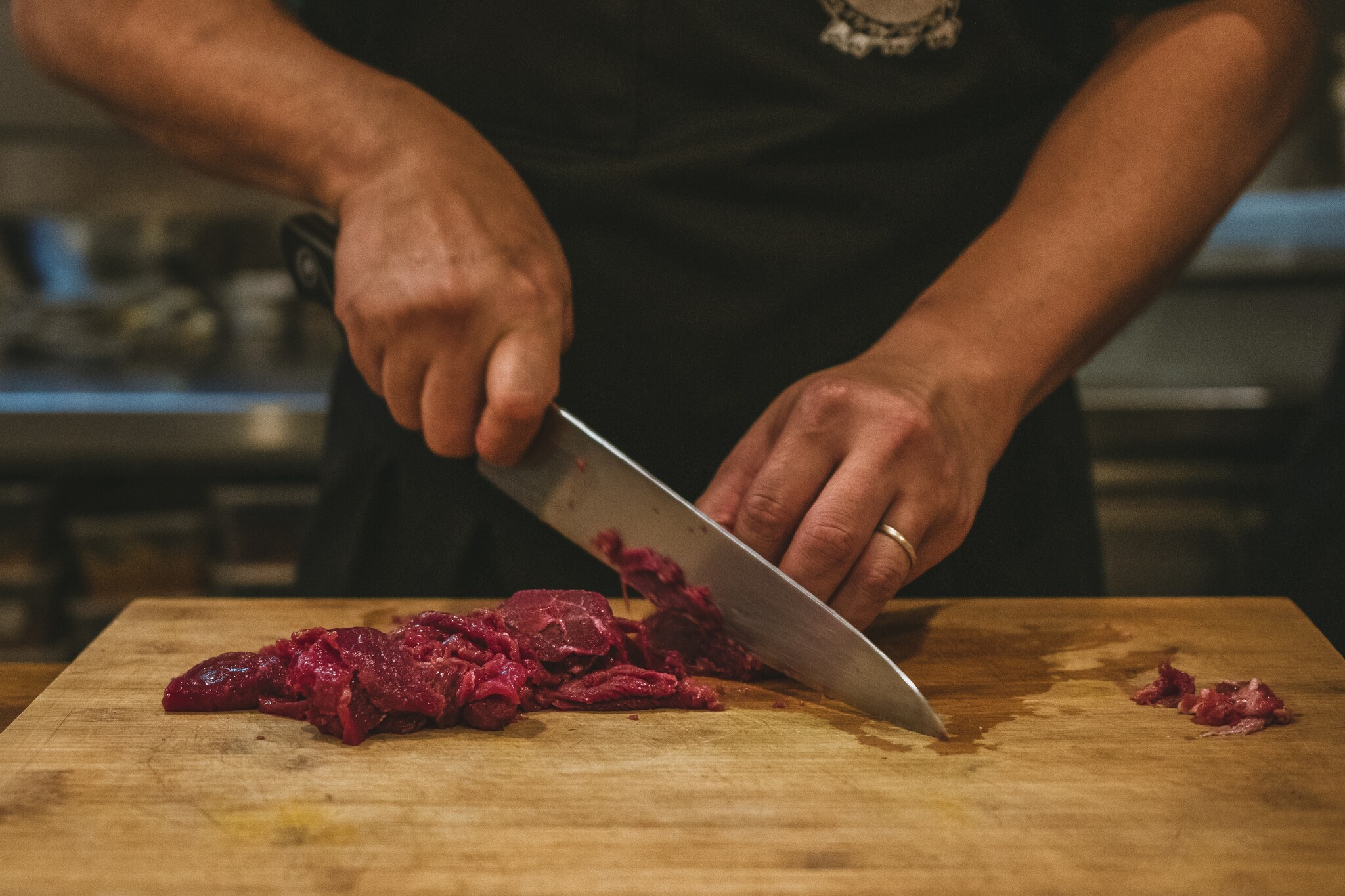 Western knives are optimal for heavy-duty jobs like cutting through meat.
Stainless steel blades are used by most manufacturers because of their stain and corrosion resistance and flexibility. For toughness, most experts recommend steels with a higher carbon content.
Some "high-carbon" steels can be hardened to a greater degree, up to HRC64, for better edge retention than most stainless steels. However, carbon steels are very vulnerable to corrosion and require consistent cleaning, maintenance and dry storage.
Rockwell Hardness Scale (HRC)
The Rockwell scale C refers to the way that manufacturers measure the hardness of a knife. During the Rockwell hardness test, a diamond-tipped cone is pressed into a knife's steel. The Rockwell Hardness Scale (HRC) of a blade is calculated based on the depth of the dent made by the diamond-tipped cone. 
Generally speaking, knives that have a higher hardness level are sharper and able to retain their edge for a longer period of time after being sharpened. However, harder knives are more prone to chipping or breaking, so they may require more maintenance. Most knives fall somewhere between 52-64+ HRC.
Blackstones's Top Picks
Blackstones of Beacon Hill is the largest knife retailer in Boston, MA, offering a wide variety of knives. Here are some of our top picks from our chef knife collection:
Top Quality Knives ($170-$230)

This Japanese knife has a thin, light blade that is corrosion resistant and razor sharp. With a total of 68 layers of stainless Damascus cladding and a D-shaped ebony PakkaWood® handle, this knife is stain resistant and comfortable for both left- and right-handed chefs. 
This German knife is made with high-carbon steel and  Wusthof's Precision Edge Technology (PETec) that promises a 20% sharper blade and twice the edge retention. The full-tang handle is made of contoured polymer for unparalleled control and comfort. 
This Japanese knife is part of Kikuichi's SEM series that offers the durability of carbon steel with the seamless maintenance of stainless steel. The single-steel blade has a HRC of 61, giving it a sharper edge that can be retained for longer. 
Mid-Priced Knives ($74-$129)

This German knife is made of high-quality, fully forged stainless steel that offers durability and long-lasting sharpness. With a seamless transition between the blade and handle, this knife has a comfortable grip and is easy to maneuver. 
This knife is handcrafted in Seki, Japan using the Honbazuke method. Made with FC61 fine carbide stainless steel, this blade offers a HRC of 61 with corrosion and chip resistance.  
This Japanese knife has a high-alloy, full-tang blade with a 67-layer damascus pattern across the face and a HRC of 60+/-2. It also features an African Blackwood handle and comes with a wood saya-style sheath.
Budget-Friendly Knives ($23-$42)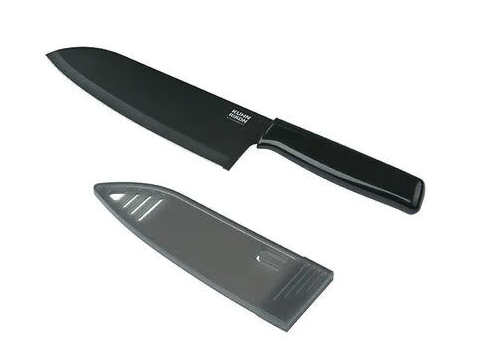 This German knife has a stamped stainless carbon alloy blade with a razor sharp edge, an HRC of 56-57, and a commercial grade oversized, hygienic handle.
This Japanese knife has a non-stick, carbon steel blade that ensures long-lasting sharpness. The nonstick coating helps to prevent food sticking to the blade, and it comes with a convenient safety sheath for storage.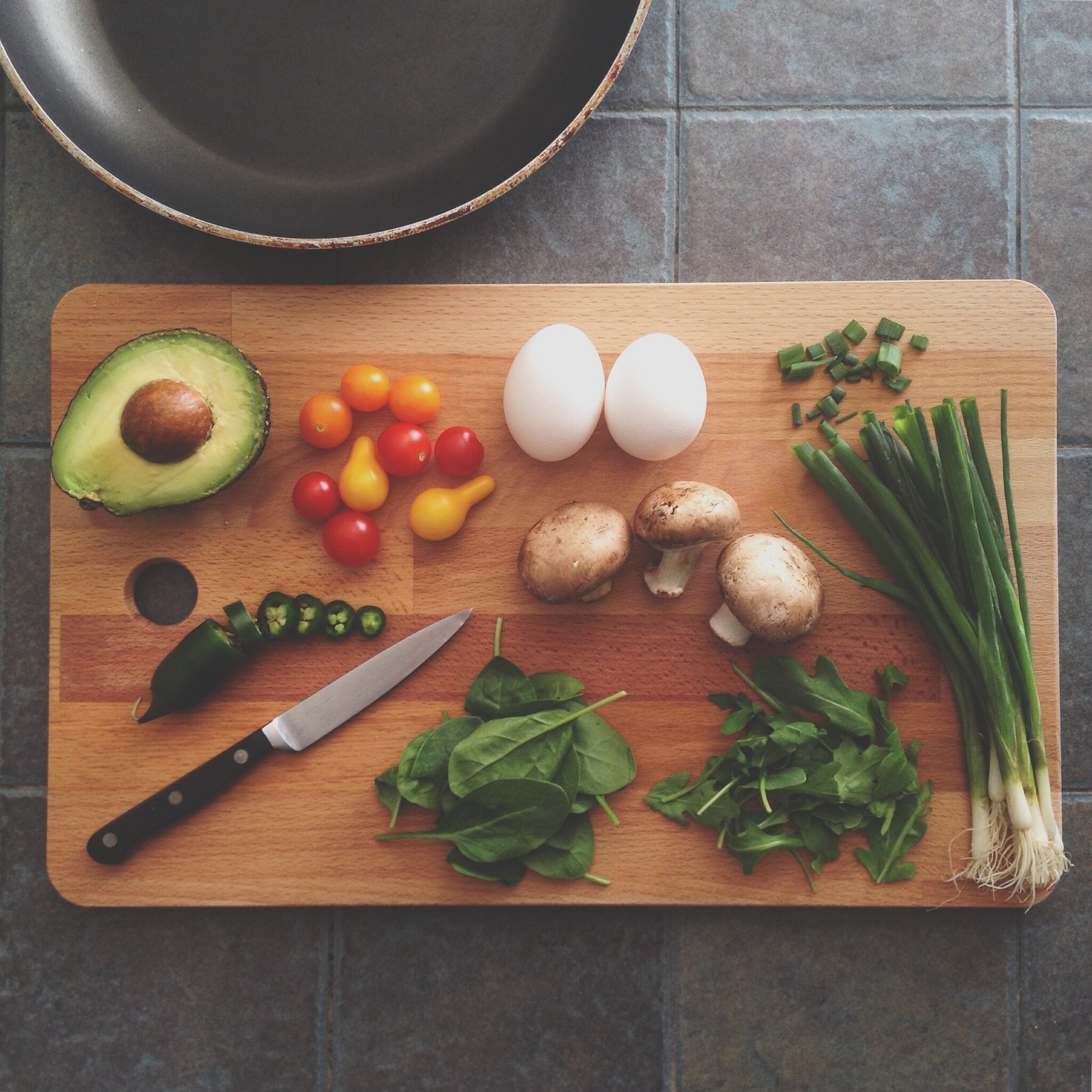 A paring knife is perfect for detailed work like cutting up small vegetables.
2. Paring Knives
Where the chef's knife offers versatility, the paring knife offers detail and control. These knives have short, thin blades measuring 3"-5", making them optimal for detailed work like slicing and peeling smaller fruits and vegetables, trimming fat from meat, and making garnishes. 
When choosing the best paring knife, you should consider all of the factors discussed in the chef's knife section, with a few extra additions. 
You should choose the paring knife that feels best in your hand, giving you enough control and balance to perform detailed tasks like peeling fruit. Once you've gotten a classic spear point paring knife, you can broaden your collection as needed to include more specialty blade styles, like the bird's beak and sheep's foot paring knives.
Blackstones's Top Picks
The team at Blackstones of Beacon Hill has hand-picked a selection of our top paring knives at different price points to fit all budgets. These include:
Top Quality Knives ($75-$150)

This full-tang German knife is precision-forged using high-carbon stainless steel, giving it control and balance and providing rust resistance. This blade is paired with a durable Polyoxmethylene handle that resists fading, discoloration, and general wear. Wusthof's Precision Edge Technology ensures a blade that is 20% sharper, giving you a greater bang for your buck. 
This Japanese blade is 2mm thick and made of rust-resistant high-carbon Chrome. The resin-impregnated wood handle is extremely comfortable and durable, and the steel offers an HRC of 59-61, ensuring premium edge retention. 
This blade is crafted in Seki, Japan, using powdered SG2 steel with an HRC of 65, ensuring that your blade stays sharp for an extended period of time.
Mid-Priced Knives ($24-$26)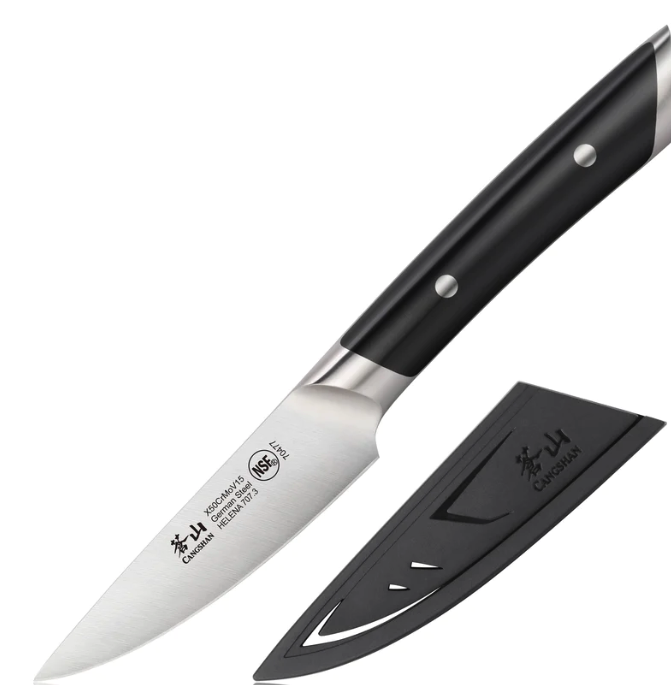 This Japanese knife includes a ceramic blade and handle that comes in a variety of colors. Ceramic blades are more lightweight, easy to clean, and resistant to rusting, making this blade convenient for on-the-go cooks who don't have time to maintain their knives. 
This full-tang knife is forged from high-alloy German steel that is heat treated to provide optimal edge retention. This blade comes with a guard to aid in storage, and the ergonomic handle adds a comfortable grip.
The Budget-Friendly Knife ($10.95)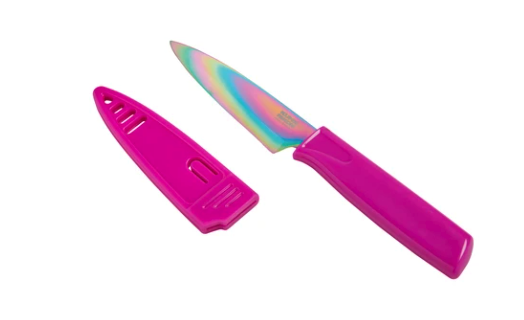 This Japanese knife has a non-stick, stainless steel blade that promises easy maintenance and lasting performance. A matching sheath is included with the purchase of this knife, ensuring easy storage and portability.
3. Serrated Knives
Serrated knives, AKA bread knives, have a scalloped blade that looks almost like a saw. These blades tend to be between 7"-10" long, and they are optimal for cutting through foods that have a hard exterior and a soft interior. Think crusty breads, cakes, and even tomatoes. 
The serrated teeth aren't necessarily sharp, but they are perfect for sawing through food without crushing or tearing. Just make sure to avoid using this type of knife on hard objects, like bones, which could lead to breaking or chipping of the scalloped edge.
You should consider all of the factors we've already discussed, with a few more considerations:
When choosing a bread knife, the length of the blade is key. It should be long enough to slice through any loaf, cake, or fruit without needing to lift the blade to reposition.
Another important factor to consider is handle clearance, meaning that the blade should be tall enough to allow space between the handle and the surface you're cutting on. This will help you to avoid the annoying (and hazardous) feeling of your knuckles hitting the cutting board while you cut.
Blackstones's Top Picks
The Top-Quality Knife ($155)

This German knife includes a forged blade with a HRC of 85 and a synthetic, riveted handle measuring 4.4". This blade offers premium quality, is the perfect length to cut through anything, and has exceptional handle clearance.
The Mid-Priced Knife ($99)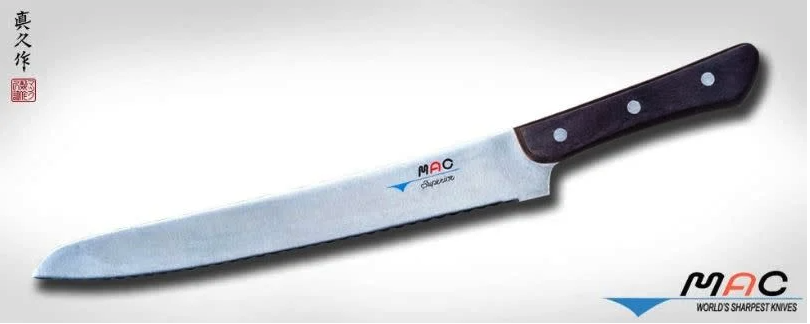 This Japanese knife is made using a thick layer of molybdenum vanadium steel, offering premium edge retention and reducing resistance when cutting through things. The ergonomic handle provides knuckle clearance and is made of durable pakka wood scales.
The Budget-Friendly Knife ($50)

This Japanese blade is made using high-carbon stainless steel, offering exceptional corrosion resistance and edge retention. The Japanese-style handle is symmetrical and made of polypropylene, making it comfortable, easy to use, and effortless to clean.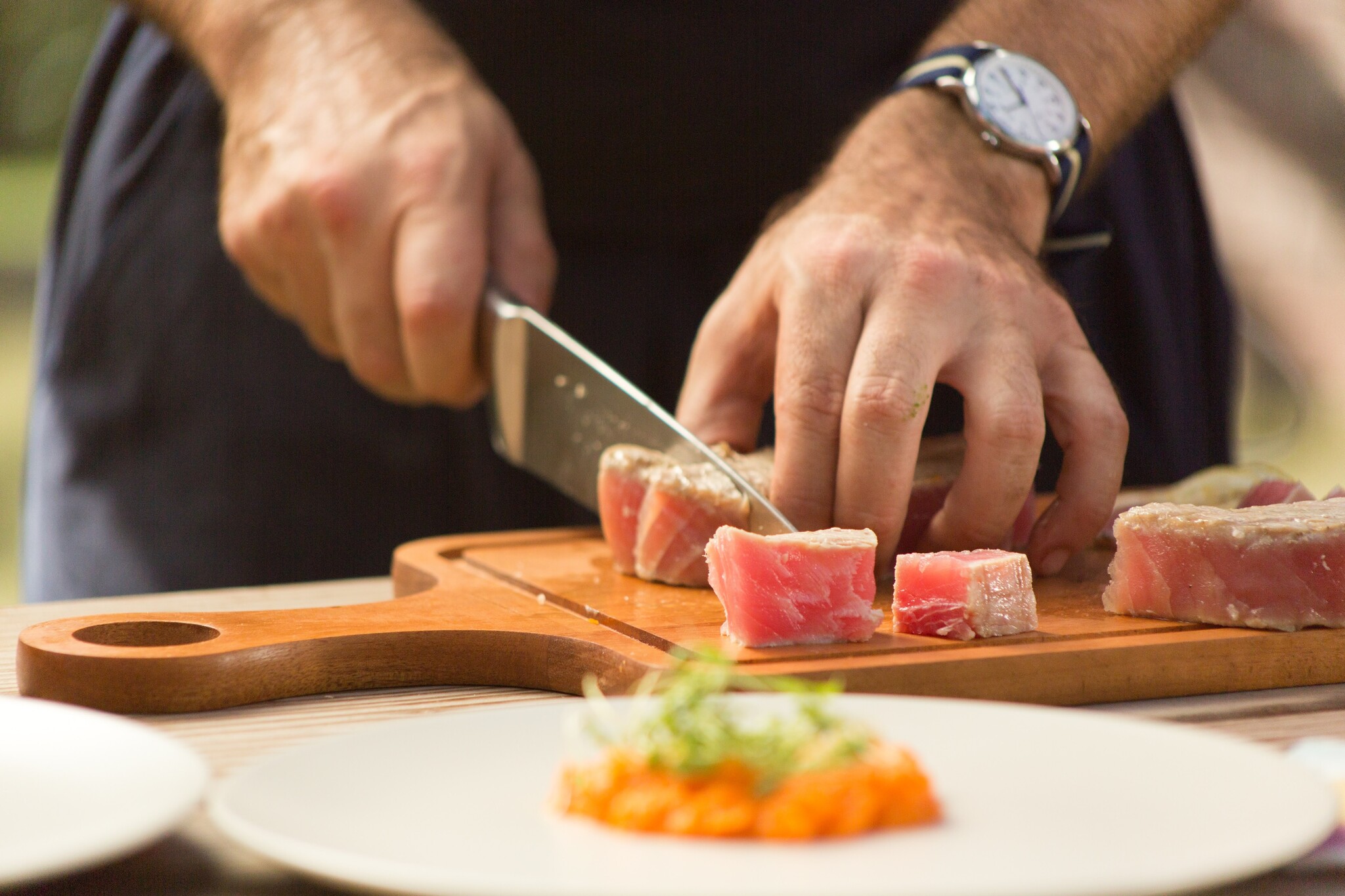 The most important consideration when choosing a knife is the unique way it feels in your hand.
"You're not shopping for a blade; you're shopping for a handle."
You could get a knife made of the most high-quality steel, with the greatest edge retention, the perfect length, and the most beautiful aesthetics, but that all means nothing if it doesn't feel right in your hand. 
The team at Blackstone's of Beacon Hill, the largest knife retailer in Boston, MA, is dedicated to making sure every cook brings home a knife that feels right in their hands. Stop by our Charles Street location to talk to our kind, knowledgeable staff; bring your knives in to be sharpened by our on-site knife expert; and take home the perfect knife for your unique needs. 
If you don't live in the area, check out the Blackstones website to browse our selection of specialty knives, premium kitchenware, home goods, and gifts.