Paige Knight - 05 / Oct / 2023
Cutlery 101: Types of Kitchen Knife Steel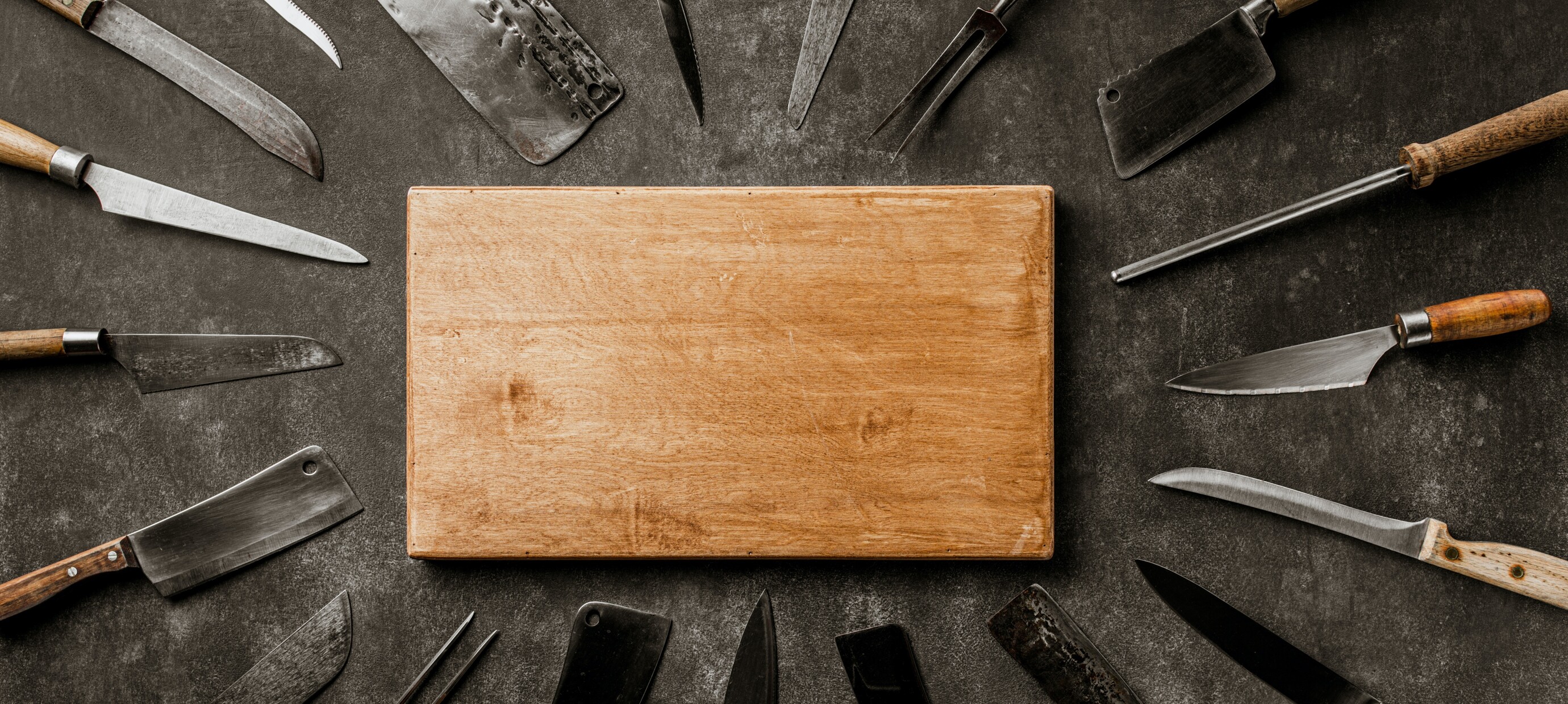 There's lots to consider when you're choosing a kitchen knife. What types of food do you typically cook? How much are you willing to spend? How does the handle feel in your hand? But unless you're a knife expert, you likely aren't asking one important question: what type of knife steel are you looking for? 
The average home cook might not realize that not all knife steel is created equal. I sure didn't until I started working with the team at Blackstone's of Beacon Hill and got a crash course from Jim Hill, Co-Owner and resident knife expert. Let's talk about what I've learned, from the basic qualities of knife steel to the specific types of steel you might encounter in shops like Blackstones. 
The Basics of Knife Steel
Most of the articles about knife steel are written by knife experts for knife experts. There's an assumption that their readers understand complex terminology and the unique interactions of different chemical compounds. I think the general consumer deserves to have all of the information when shopping for the perfect knife, so I sifted through the research so you don't have to.  
Steel is an alloy (AKA a mixture) of two different elements: iron and carbon. There are too many types of steel to name here, but they fall into four broad categories: carbon steel, stainless steel, tool steel, and alloy steel. For our purposes, we'll be focusing on carbon steel, stainless steel, and alloy steel. 
Alloy steel is a type of steel where multiple different elements, aside from just carbon, are added to iron to improve its properties. All of the steels we'll talk about today are alloy steels, but many of them also fall into the stainless steel or carbon steel category.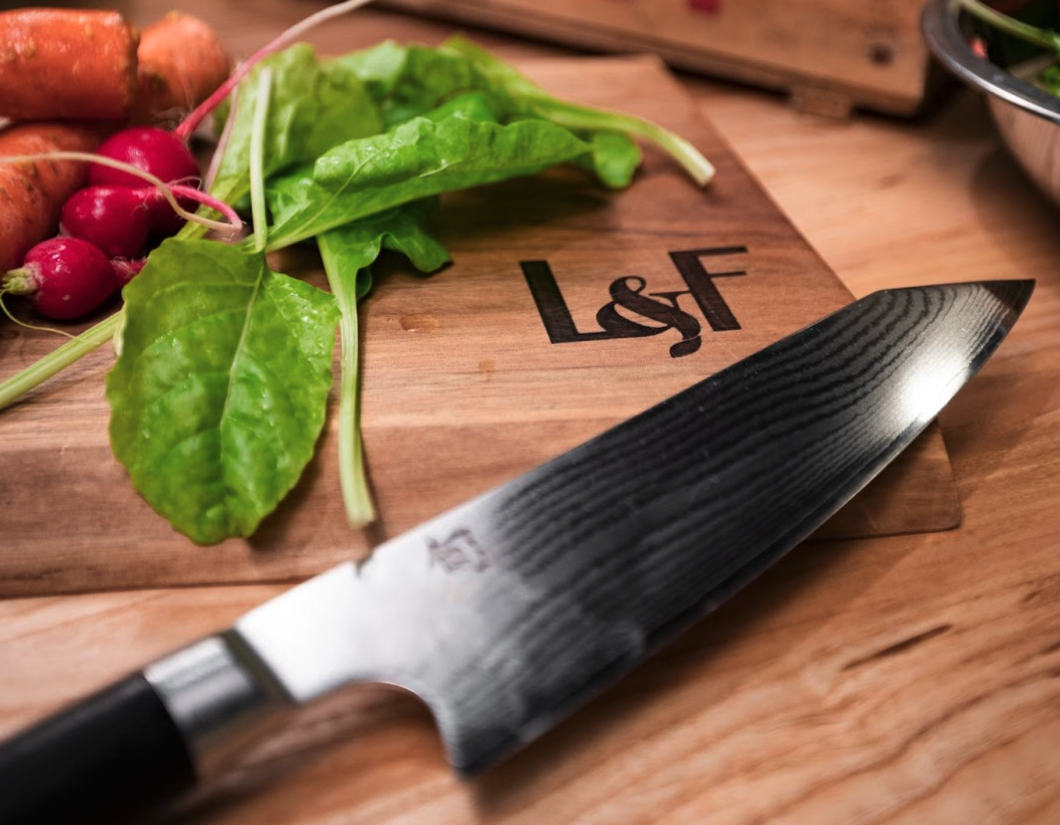 Finding the perfect knife steel means finding the perfect balance between a few key qualities.
Key Knife Steel Qualities
Each knife steel is created using a unique combination of different elements with the goal of creating the perfect balance between a few key qualities. There's a give-and-take when it comes to these features; increasing one often means sacrificing another, so it's important to focus on finding a steel that balances all of these qualities in a way that fits your unique cooking goals. 
Hardness
Hardness is a steel's ability to resist deformation when put under pressure. This is measured using a test called the Rockwell C scale (HRC), which is a measure given based on how deep of an indentation is created when a diamond-tipped cone is pressed into a knife's steel. 
Most kitchen knives fall somewhere between 52-64+ on the Rockwell C scale, and Carbon content is the main determining factor in a steel's hardness. This means that steel with a higher Carbon content tends to be harder. Harder kitchen knives that can take a sharp edge are great for cooks who value precision and spend a lot of time working with vegetables. 
Wear Resistance 
If a steel has a high level of wear resistance, it's able to withstand abrasive damage, the term for when hard particles pass over a softer surface, and adhesive damage, when debris comes off of one surface and attaches itself to another. Typically, harder steels have greater wear resistance.
Edge Retention and Ease of Sharpening
Generally speaking, harder steels with a higher level of wear resistance can take a sharper edge and retain that edge for a longer period of time.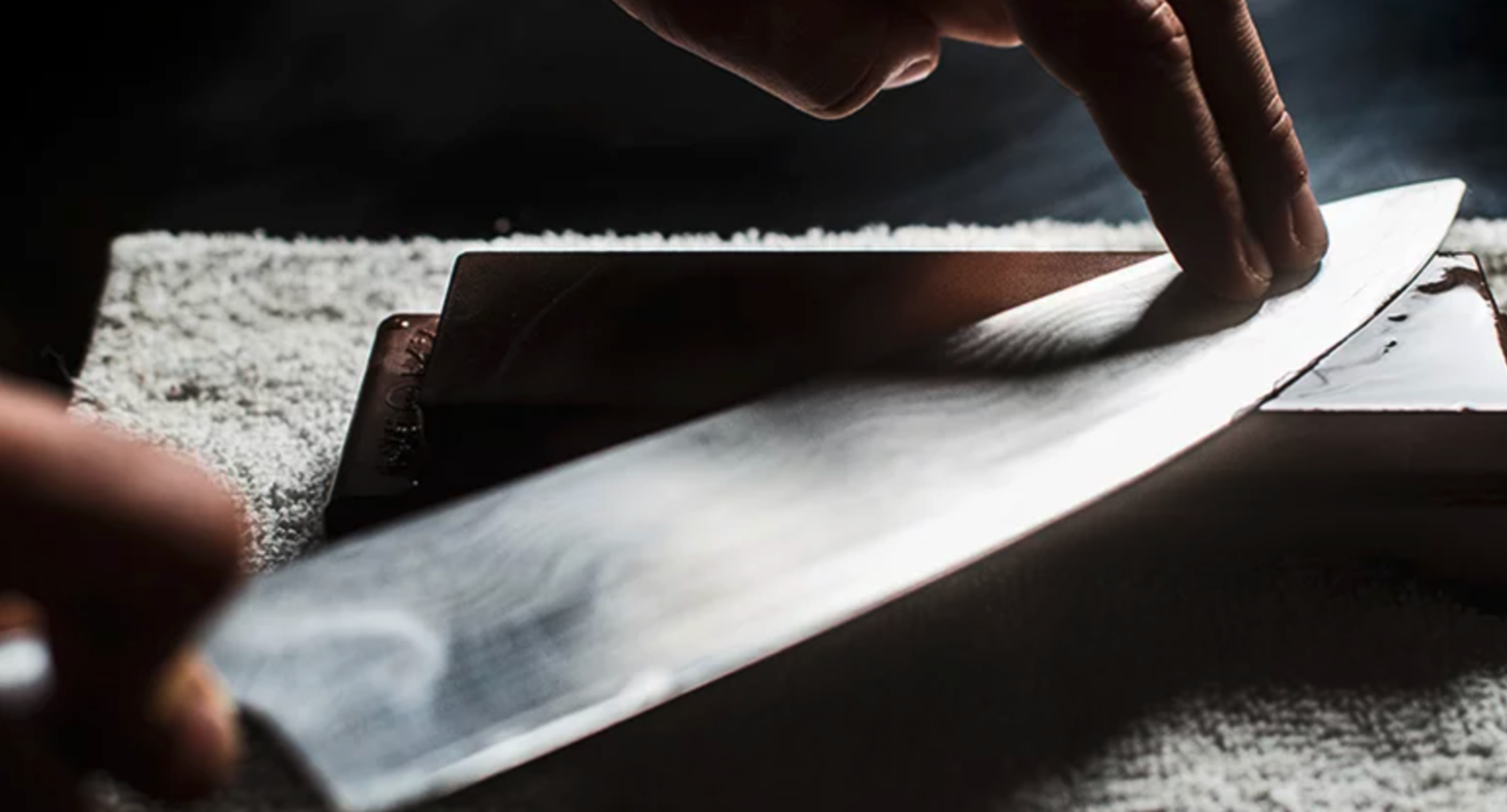 Kitchen knives that score high in hardness, wear resistance, and edge retention are great for cooks who value precision and spend a lot of time working with veggies.
Toughness
Toughness is a measure of how much a knife is able to resist damage, like chipping, breaking, or cracking. Because steels that are very hard also tend to be more brittle, the measure of toughness is negatively correlated with hardness. This means that the harder the steel is, the less tough it tends to be, though this effect can be mitigated slightly by other elements that are used when making a knife steel. Tougher steels are a good fit for cooks who spend a lot of time doing heavy-duty tasks, like spatchcocking poultry and cutting meats. 
Corrosion Resistance
Corrosion is caused by moisture and includes things like rust, patina, staining, and pitting, which happens when small holes form on the surface of the blade. Corrosion can alter a blade's sharpness and structural integrity, so many steel manufacturers include Chromium to make a steel "stainless." While steels that are high in Chromium have greater corrosion resistance, they also tend to suffer in terms of edge performance. Corrosion resistance is an especially valuable quality for cooks who aren't familiar with, or who don't have time for, extensive knife maintenance.
Stainless Steels
Stainless steel has at least 11% Chromium added to it to help resist corrosion. This type of steel is popular for kitchen knives, especially for the general cook, because it is pretty low maintenance compared to carbon steel, which needs expert care to avoid corrosion. A few of the stainless steels you might find on the shelves of Blackstones include:
X50CrMoV15 Steel
HRC: 55-56
0.55% Carbon

1% Manganese

 

0.0015% Sulfur

15% Chromium

1% Silicon

 

0.2% Vanadium

0.8% Molybdenum

0.04% Phosphorus

 

0.6% Nitrogen
Also known as 1.4116, X50CrMoV15 is a German steel that is often used in high-quality kitchen knives. The lower level of Carbon in X50CrMoV15 makes it a bit softer, meaning its edge retention and sharpness fall short of other high-end steels. However, the addition of Molybdenum, Silicon, Phosphorous, and high levels of Chromium make this steel incredibly tough and corrosion resistant, and the combination of Carbon and Vanadium improves its wear resistance. This steel is great for heavy-duty applications, as it has a higher level of toughness than hardness.
Kitchen Knives That Use X50CrMoV15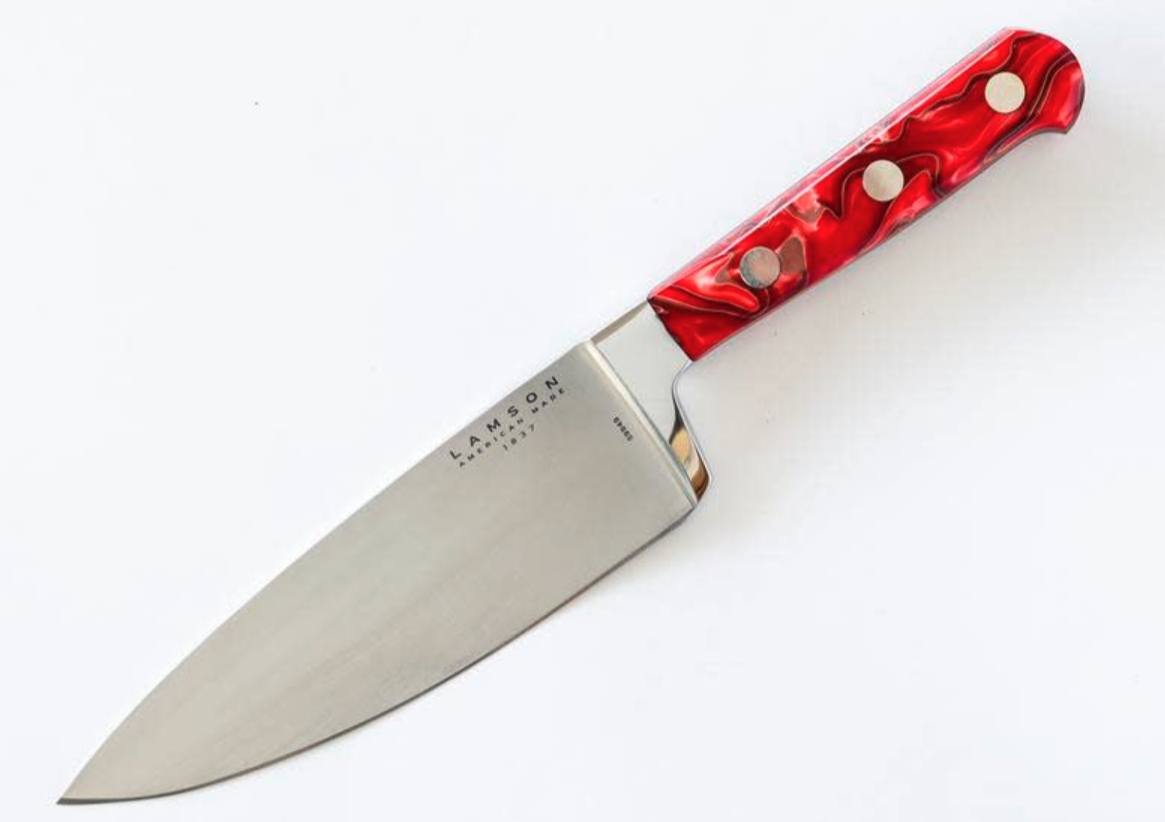 Lamson Fire Series 6" Chef's Knife
14C28N Steel
HRC: 54-62 
 

0.62% Carbon

 

0.025% Phosphorus

 

14% Chromium

0.01% Sulfur

 

0.6% Manganese

0.11% Nitrogen

 

0.2% Silicon

 
This Swedish steel is similar to 12C27, which is also made by the same company, Sandvik, and is used by Opinel, but it has additional nitrogen and slightly more carbon, which gives it more toughness and wear resistance. With its higher Carbon content compared to X50CrMoV15, 14C28N is able to take a sharper edge and retain that edge for longer, though that also makes it slightly less tough. The high Chromium content means that this steel has great corrosion resistance, and the presence of Manganese aids in wear resistance. Blades made with this steel are great for general cooks who want versatility in their kitchen knives.
Kitchen Knives That Use 14C28N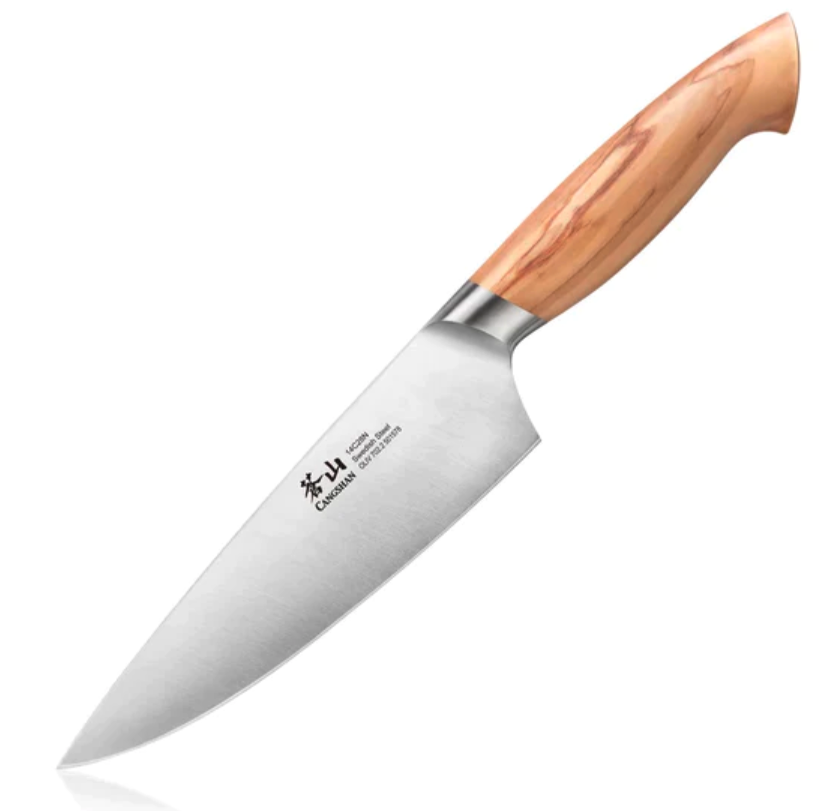 Canshan Oliv Series 6" Chef's Knife
Cangshan's

Oliv Series

Knives
VG-10
HRC: 60-62
| | |
| --- | --- |
| 0.95-1.05% Carbon | 0.5% Manganese |
| 14.5-15.5% Chromium | 0.1-0.3% Vanadium |
| 0.9-1.2% Molybdenum | 1.3-1.5% Cobalt |
This high-carbon stainless steel is produced in Takefu, Japan. VG-10's Chromium content makes it highly resistant to rust, though it tends to be less resistant to pitting, so knives made with this steel still require some routine maintenance. The high levels of Carbon, Cobalt, and Manganese in this steel make it very hard, allowing it to take a very fine edge that it can retain for a long period of time, making it perfect for tasks that require precision. This also means that this steel is less tough and more prone to cracking and chipping than other steels we've discussed, so it's not well-suited for heavy-duty tasks.
Kitchen Knives That Use VG-10

Shun Premier Series 6" Chef's Knife
Shun's

Classic Series

and

Premier Series

(pictured above) Knives

Kikuichi's S33 Series Knives
AUS-10
HRC: 60
| | |
| --- | --- |
| 0.95-1.10% Carbon | 1% Silicon |
| 13-14.5% Chromium | 0.04% Phosphorus |
| 0.1-0.31% Molybdenum | 0.1-0.27% Vanadium |
| 0.5% Manganese | 0.49% Nickel |
This Japanese, high-carbon stainless steel is made in Tokai, Japan by Aichi Steel, the same company that makes VG-10. Its high level of carbon makes it a harder steel that's able to take and retain a sharp edge, while the combination of Chromium, Vanadium, and Molybdenum make it resistant to corrosion and wear. This steel falls a bit short in terms of toughness, so it's best suited for tasks that require precision as opposed to power.
Kitchen Knives That Use AUS-10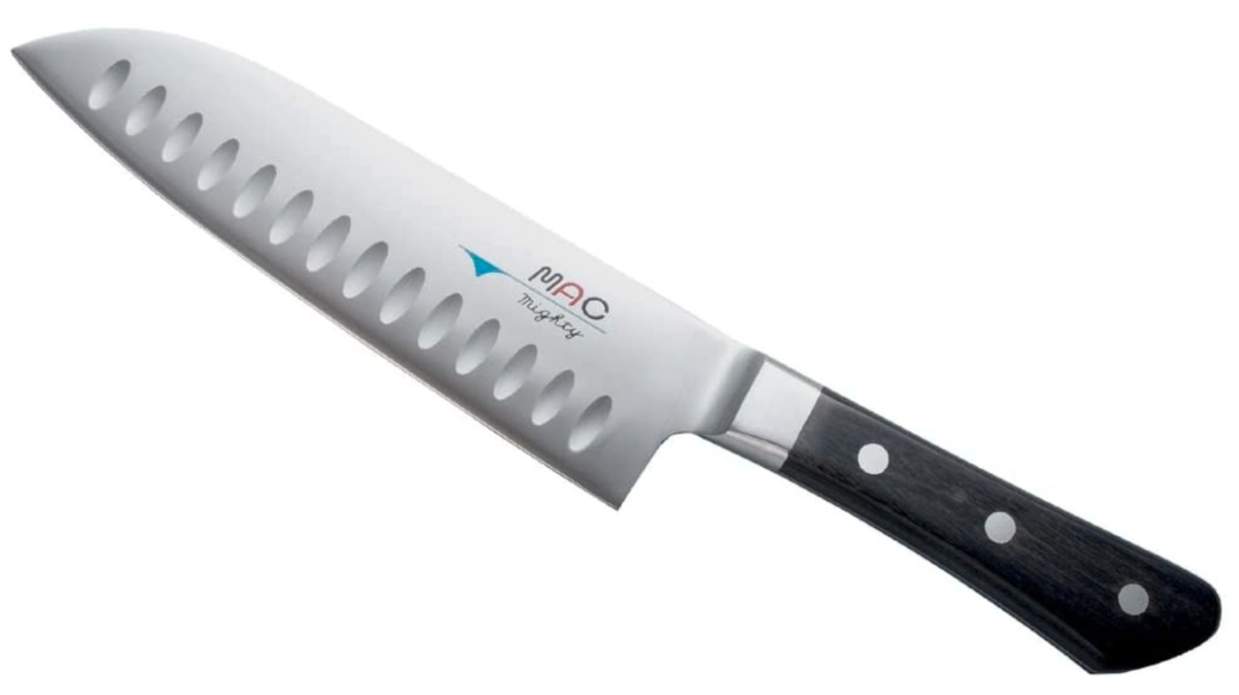 MAC Professional Series 6" Santoku with Dimples
Kikuichi's

Nickel Warikomi Damascus 10" Suijhiki

Kikuichi's

GM Series

Knives

MAC's Professional Series (pictured above) Knives
Cromova18
HRC: 56-58
| | |
| --- | --- |
| 1.05% Carbon | 0.14% Vanadium |
| 17.3-18% Chromium | 0.48% Silicon |
| 1.12% Molybdenum | 0.03% Phosphorus |
| 0.4% Manganese | 0.18% Nickel |
This stainless steel is made exclusively by Yoshikin, and is found exclusively in Global Knives. What sets this steel apart is its high level of Chromium, which makes it a good fit for people who live in humid climates where corrosion is a concern. Though it is high in Carbon, which helps with edge retention, the Chromium content makes this steel softer and better for heavy-duty tasks that require more impact toughness.
SG2
HRC: 64 
 

1.25-1.45% Carbon

1.8-2.2% Vanadium

14-16% Chromium

0.5% Silicon

2.3-3.3% Molybdenum

0.04% Phosphorus

0.4% Manganese

0.03% Sulfur
Also known as "Super Gold 2" for its gold-standard properties, this high-carbon stainless steel is produced in Takefu, Japan by the same company that makes VG-10. Unlike the other steels we've discussed, SG2 is manufactured using powder metallurgy, a process where compacted metal powders are heated to just below their melting point to form metal. This process is more costly than traditional methods, but it renders an extremely hard steel that's able to take an exceptionally fine edge and retain it for longer than the other steels on this list. 
However, this also means that this steel is prone to brittleness and requires care when handling and storing it. This steel also requires a ceramic honing rod to maintain its edge, as traditional steel honing rods aren't likely to be hard enough to be effective on SG2.
Knives That Use SG2

Miyabi Birchwood Series 8" Chef's Knife
Miyabi

Birchwood Series

(pictured above) Knives

Messermeister Kawashima Series Knives
Carbon Steels
Carbon steel is essentially any steel that doesn't meet the criteria of 11% Chromium for stainless steel and that has a carbon content of at least 0.05%. Carbon steel is typically harder than stainless steel, meaning it can take a very fine edge and doesn't need to be sharpened as often, but it is also more vulnerable to corrosion than stainless steel. Knives that use carbon steel, like those found in Kikuichi's Kokaji White Carbon series, are a good fit for professional chefs or seasoned home cooks who have adequate knife skills and a firm grip on proper knife maintenance. 
Damascus Steel
Damascus steel is a solid piece of steel that is forged by layering two different steels on top of each other. These different alloys often have different carbon percentages, and the steel with the higher carbon content turns darker during the etching process, creating the intricate design that damascus steel is known for. Damascus steel is often layered around the core of a blade, as is seen in blades like the Bob Kramer Euroline Stainless Damascus 8" Chef's Knife (pictured below), which features an SG2 core that is protected by 101 layers of damascus cladding. Once layered onto a blade, damascus steel serves to protect the core and to provide texture that encourages food particles to release from the blade's surface.

If you're still not sure what type of steel is best for you, the team at Blackstones has your back.
Which Type of Steel Is Best For You?
I'm hoping that this blog has left you feeling a bit more competent when navigating the complicated world of kitchen knife steels, but it's okay if you're still feeling a bit lost. While steel is an important factor in choosing a knife, it's certainly not the only one. A knife is only as good as it feels in your hand, so it's important to take your own personal needs and preferences into consideration when choosing the knife that's best for you. 
If you'd like some help as you make your decision, stop by Blackstone's of Beacon Hill, located at 40 Charles St. in Boston, Massachusetts. Our knowledgeable, friendly staff will make you feel right at home as they help you to navigate our famous knife wall, which features many of the knives mentioned in this article (and then some). If you don't live in the neighborhood, don't fret! Visit the Blackstones website to browse our online selection from the comfort of your home.