Le Creuset - 24 / May / 2022
Saffron Coconut French Toast with Minted Berries and Cardamom Syrup
The flavors of fragrant cardamom, saffron and vanilla blend together to give basic French toast a decidedly tropical twist. The addition of coconut flakes and a fresh minted berry garnish further the feeling of being transported to a far off locale without ever leaving your brunch table at home.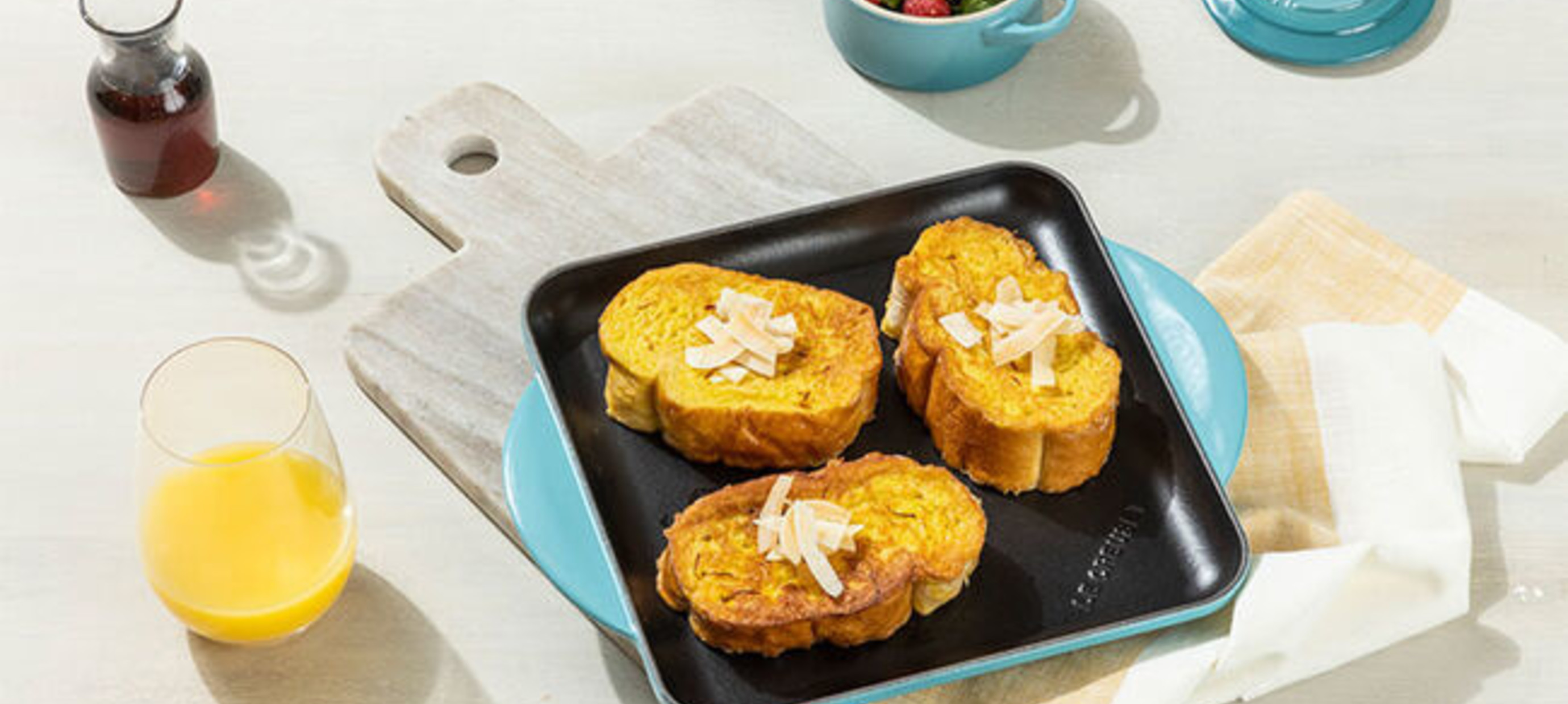 Under 1 hr.  | 4-6
Ingredients
1 cup maple syrup
1 tablespoon whole cardamom seeds
4 eggs
1 cup coconut milk
1/4 teaspoon vanilla extract
1/8 teaspoon saffron
Salt
Coconut oil
1 loaf French bread, cut into 1-inch thick slices
2 cups fresh berries
1/4 cup fresh mint leaves
Toasted coconut flakes
Instructions
Place the maple syrup and cardamom seeds in a small saucepan. Bring to a simmer over low heat for 5 minutes. Remove from the heat and let cool 10 minutes. Strain the seeds out of the syrup and keep warm.
Heat a griddle pan over medium heat. Whisk together the eggs, coconut milk, vanilla and saffron in a shallow bowl or baking dish. Season with a pinch of salt.
Lightly oil the griddle with coconut oil. Working 2-3 pieces at a time, generously coat the bread on each side with the egg mixture and immediately place on the hot griddle. Cook the French toast on each side until golden brown, about 2 minutes per side. Keep warm until serving.
Toss the berries with the fresh mint and a splah of the Cardamom-infused maple syrup in a small bowl. Top the French toast slices with the berries, a drizzle of syrup and the toasted coconut flakes.