Lia - 26 / Apr / 2023
Le Creuset's newest color shallot is good enough to eat
At Blackstone's, we have a selection of kitchenware items that would be perfect for rounding out this delicious recipe from Le Creuset. This recipe celebrates their latest shade, Shallot, and we have just the right pieces to help you prepare it with ease and style.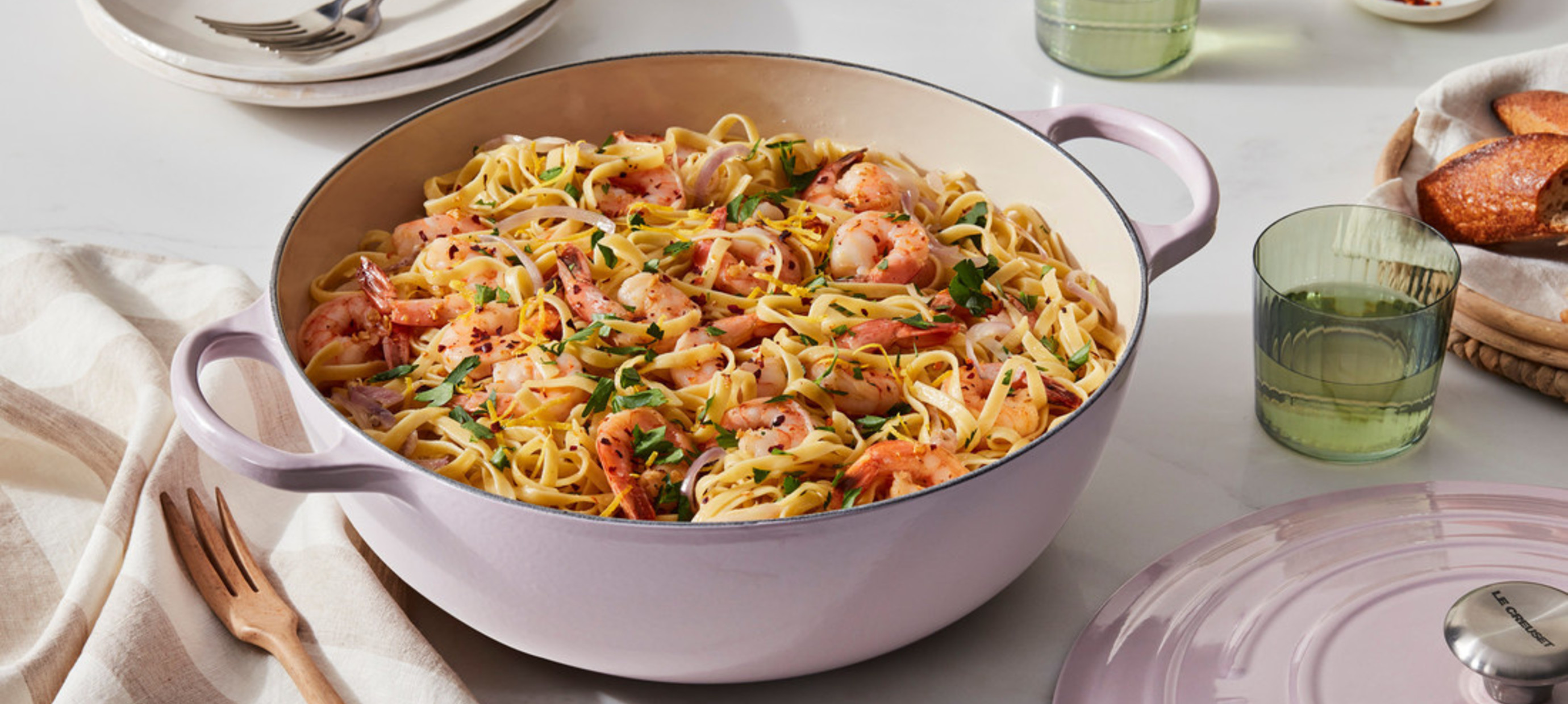 Shallot Shrimp Scampi
Recipe Created For Signature Chef's Oven
Cook Time: 45 minutes
Serving Size: 8-10
INGREDIENTS
2 pounds dried linguine
4 teaspoons salt, divided
2 lemons
2 tablespoons olive oil
2 tablespoons unsalted butter
5 shallots, sliced
8 garlic cloves, chopped
2 pounds large shrimp, peeled and deveined
1/2 teaspoon freshly ground black pepper
1/2 teaspoon red pepper flakes, plus extra for garnish
2 cups white wine
1/4 cup chopped parsley leaves
RECIPE NOTES
Our colorful shrimp scampi recipe is an easy, yet delicious way to feed a crowd. With slightly-sweet, caramelized shallots, plump shrimp and fragrant garlic, this classic pasta dish will be on repeat in your kitchen. Toasted red pepper flakes add warmth while the combination of lemon zest and juice brighten up an Italian seafood favorite. 
INSTRUCTIONS
In a large Dutch Oven, bring 8 cups of water to a boil and add 2 teaspoons salt. Add linguine, stirring to combine, and boil until al dente, about 8 minutes. Reserve 1 cup pasta water. Drain linguine and set aside. Meanwhile, zest and juice the 2 lemons.
Heat the olive oil and butter in a Dutch Oven set over medium heat until it is shimmering. Add the shallots and the remaining 2 teaspoons salt. Sauté until the shallots are lightly caramelized, about 4 minutes. Add garlic and shrimp, and sauté until shrimp are pink and just cooked through, about 3 minutes.
Add the black pepper and crushed red pepper, stirring to toast the spices, about 1-2 minutes longer. Remove the shrimp from the pot and set aside. Add the white wine and lemon juice to the Dutch Oven, stirring to scrape up any browned bits. Add the linguine and reserved pasta water, stirring to combine and emulsify the sauce. Remove from heat and add the reserved shrimp, tossing to combine. Serve topped with the lemon zest, parsley, and additional red pepper flakes to taste.